Image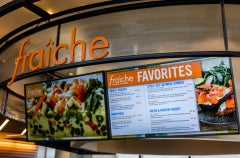 Delicious and Healthy Food, Made From Scratch
When traveling, it can be difficult to find options that are both healthy and delicious.  This can be even more difficult for travelers with dietary restrictions.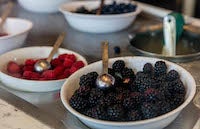 Fortunately for SFO travelers, there is Fraîche.  Located in Terminal 3, Fraîche offers a variety of satisfying, hearty and healthy on-the-go foods.   From smoothies to homemade frittatas, avocado toast to made-from-scratch oatmeal bowls, gluten free and vegan menu items, and of course delicious yogurts, Fraîche has options to satisfy any craving.
An artisanal yogurt and food shop with a widely-known brand in the San Francisco Bay Area, Fraîche opened at SFO in 2012 and quickly became popular amongst locals, as well as travelers looking for clean food options.  At the heart of the menu are homemade, organic, small-batch Greek yogurts (both fresh and frozen) coupled with a variety of other nutritious savory and sweet snacks.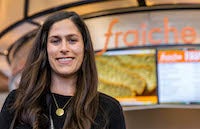 Says owner Jennifer Maltz, "We pride ourselves in making most of our menu from scratch, with clean, simple recipes that highlight nutrient-dense foods.  We are dedicated to serving high-quality ingredients, full-flavored healthful recipes and organic and sustainable practices.  We aim to satisfy any craving and consciously offer a variety of choices for special dietary requirements."
In a region that prides itself on health-focused and locally-sourced cuisine, Fraîche takes the "from-scratch" concept a step further, pasteurizing their own milk and culturing their own yogurt from scratch at their home base in Palo Alto, CA.  "We are proud to claim that we are the only place in the Bay Area that serves frozen yogurt made from real yogurt" says Jennifer.
Local Following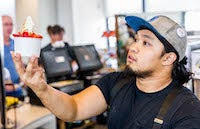 With this kind of approach, Fraîche has built a strong local following and passengers frequently seek them out in the Airport because they are regulars at one of their local locations.  "It's amazing to see that type of customer loyalty!  We also have a ton of travelers who thank us for providing foods that meet their dietary restrictions and make them feel healthy and satisfied while they're travelling" says Jennifer.
With a dedicated team who aim to delight their customers through every interaction, and a menu of healthy, nutritious and satisfying food options, Fraîche is a great option for hungry travelers and Airport employees alike.
In the words of Jennifer Maltz "We want each customer to leave totally satisfied and just a little bit happier and healthier."
Visit Fraîche in Terminal 3, post-security, Boarding Area F, near Gate 81 and enjoy the 10% employee discount.