Image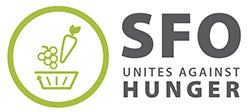 SFO's Food Donation Program provides an avenue for Airport tenants to donate excess packaged food to feed the hungry in the Bay Area.  
How does it work?
To support its core values and overall goals to "care for and protect our Airport and communities", the Airport has partnered with Waste No Food, a local non-profit organization that provides a mobile and web-based marketplace for SFO tenants to sign-up and post excess packaged food they have that is past its sell date but still consumable.  Qualified non-profit charities in the vicinity of the donors who have been vetted by Waste No Food, can then claim the food. The charities are responsible for handling and transporting the food.
Benefits
Provide food to Bay Area residents who are food-insecure
Prevent edible food from being wasted in landfills
Realize a tax write-off
Sign-Up
Notify Revenue Development & Management at SFOConcessions@flysfo.com of your interest in participating in the Food Donation Program.
Enroll with Waste No Food (WNF) by downloading the WNF App
The app is the preferred method to register; however as an alternative, you may register on the Waste No Food website or call 408.394.1862. 
For help with enrollment or the app, email wastenofoodorg@gmail.com or call 408.394.1862.
Commence Food Donation
Currently accepted items includes packaged food: sandwiches, crackers, chips, salads, boxed/wrapped pastries, nutrition bars, ground coffee/beans, milk, juice, yogurt, dairy foods, sushi; and excludes any item with raw fish/meat.
Clearly label the packaged food with the "Date Donated" which must be at least three (3) calendar days prior to its expiration/use by date.
Place your donated food in the red bin(s), drop-off the red bin(s) to one of the four (4) (1) (use Cipher Code provided by Revenue Development & Management to enter, and place the bin(s) in the refrigerator.
Sign-in (username and password) to the WNF App or the website and list the food types and amounts including the date/time of the donation and the Food Storage Room (Location ID 1, 2, 3, or 4).  You may also upload a photo of the food.
Replace the red bin(s) with an empty one available inside the Food Storage Rooms that are stacked on the shelves (if you need more red bins), and
Please do not leave any waste in the Food Storage room.
(1)Locations
Location 1 - International Terminal A-side Room I1.1.103Q (Basement Level)
Location 2 - Terminal 3 Room T3.B.026 Basement Level
Location 3 - Terminal 3 Room T3.1.255A Arrivals Level 1
Location 4 - International Terminal Courtyard 4 (Basement Level)
Charities are immediately notified through the app and can select the food for pick up.
About Waste No Food
Waste No Food is a nonprofit mobile and web based marketplace dedicated to diverting excess food to hungry people.  WNF has partnered with St. Anthony's Foundation and Glide Memorial to pick up food donated by SFO's tenants.  One hundred percent (100%) of the food donated by Airport tenants will go to these charities.