Domestic violence has risen during the COVID-19 pandemic as families are confined to shelter-inplace. You can help people who are experiencing domestic violence by showing your love and care for them. Create journals that are critical for their healing process. These journals will remind them that there is a loving community supporting them. As volunteers, you would purchase Composition notebooks and craft materials used to collage and decorate these journals. SFO employees, tenants and their families are welcome to engage in this fun activity to turn plain notebooks into beautiful one-of-a-kind journals.
Instructions:
Use Composition notebooks and craft materials.
Cover the front and back of the notebooks with colored and/or patterned paper and attach with a glue or a tape.
Decorate the outside front cover with stickers, washi tape, decorations, positive statements.
Write a message on the first page (optional).
Positive statement ideas: "You are safe; Your community supports you; You got this; You are strong; You are in the right place; You will rise; Believe in yourself; One step at a time."
Samples of a designed journal is below.
Image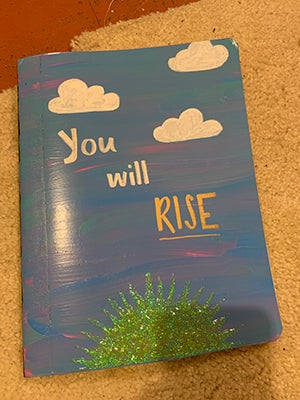 Please drop off your completed journals during the week of August 24, 2020 at the SFO Business Center, 2nd Floor, Accounting Office, Attention: Hazelle Fernandez.
Don't have time to make a notebook, but still want to help?
You can participate by donating Composition notebooks and craft materials for volunteers.
To learn more or to donate directly in support of La Casa de Las Madres, visit https://www.lacasa.org/
If you have any questions, please e-mail the MVP Committee at sfomvp@flysfo.com or call Kathy Mark at 650.303.3446 or Hazelle Fernandez at 650.821.2881.
(1)La Casa de Las Madres operates one of San Francisco's three shelters for domestic violence victims and provides services for them at two single-room occupancy hotels in the City. In 2019, La Casa de Las Madres impacted more than 20,000 community members in the Bay Area